ACUVUE Brand Contact Lenses
For over twenty years,
ACUVUE®
 Brand has been dedicated to bringing the benefits of vision care to people around the globe. Ever since
ACUVUE®
 Brand transformed vision correction in 1988 with the world's first soft disposable contact lenses, they've passionately pursued new technologies and the highest quality standards. ACUVUE
®
 lenses are worn by more people than any other brand.
Today, millions of people enjoy new levels of vision, comfort, freedom and performance, with ACUVUE's patented, advanced comfort technologies such as LACREON®, HYDRACLEAR®, HYDRACLEAR® PLUS and HYDRACLEAR®.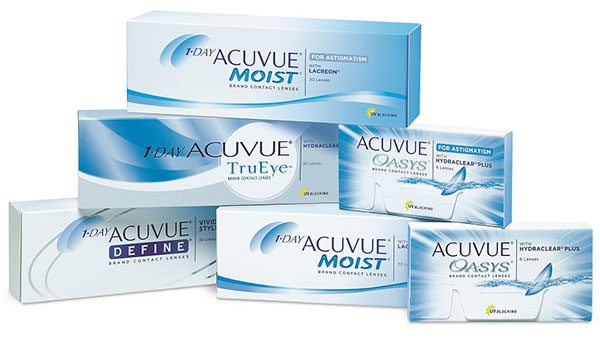 Switching to Acuvue? Here are your options!
1-DAY ACUVUE® MOIST Brand Contact Lenses
Experience exceptional all-day lens wear, every day from morning until night.
1-DAY ACUVUE® MOIST is the perfect combination of comfort and performance in a daily disposable lens.
1-DAY ACUVUE® TruEye® Brand Contact Lenses
Try the lens that feels almost as comfortable as wearing no lens at all.
1-DAY ACUVUE® TruEye® features an innovative design that provides comfort for people who wear their lenses intensely.
ACUVUE® OASYS®Brand Contact Lenses 2-Week with HYDRACLEAR® PLUS
Unbeaten performance, even in demanding everyday environments.
Digital devices and challenging environments, like cold air conditioning or dusty, dry air can cause discomfort and irritation. ACUVUE OASYS® Brand Contact Lenses with HYDRACLEAR® PLUS Technology are inspired by the way your tear film actually works to help reduce the feeling of tired eyes so you can perform at your best all day.