Review: FreshKon Alluring Eyes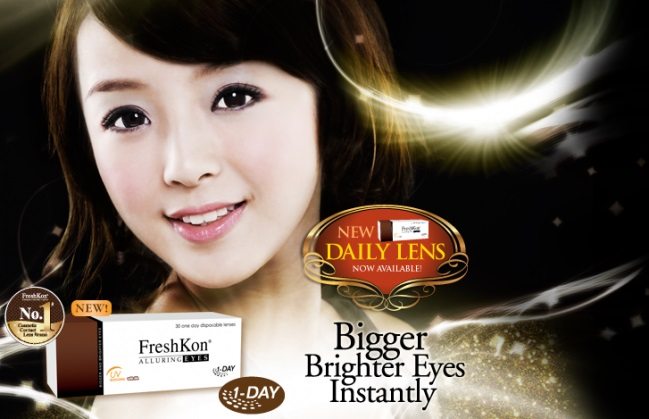 FreshKon is a global brand with its range of cosmetic lenses selling in more than 50 countries. With over 25 years of experience in manufacturing and supplying high quality contact lens and contact lens care products to optical retailers and eye-care practitioners, FreshKon is manufactured in accordance to the quality assurance system ISO 9001 / ISO 13485 requirements and meet the Medical Devices Directive 93/42/EEC.
FreshKon was founded with a great belief – that fashion should be more than the product it inhabits; that it should be a way of life. Because stunning eyes are the natural result of a beautiful inside, which is in turn derived from a radiant confidence and renewed perspective.

Let your eyes radiate confidence with our NEW enhanced features, giving you a clearer vision and keeps you looking naturally alluring every minute of the day. Achieve that mesmerising look with FreshKon Alluring Eyes today!
FreshKon Alluring Eyes is available in 4 attractive shades:
Mesmeric Black – Softer, subtler black for that natural lustrous and assertive look
Magnetic Grey – A contemporary grey that gives a luminous, sexy and expressing gaze
Mystical Black – Intense black for the deep, mysterious and confident look
Winsome Brown – A distinctive brown that reflects a warm, passionate & self-assured personality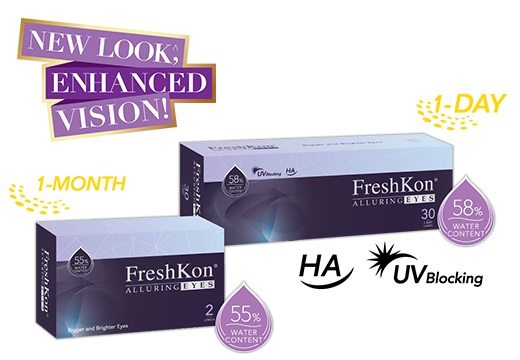 Product Specifications
Water Content  58%
Diameter  14.2mm
Base Curve  8.5mm
Power Range
– 0.00 (plano)
– 0.50D to – 6.00D (0.25 steps)
– 6.50D to – 10.00D (0.50 steps)
FreshKon Alluring Eyes are available in both monthly and daily lenses!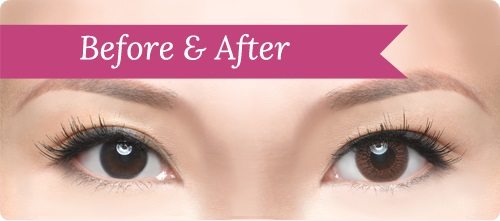 What people say:–

"The Freshkon Alluring Eyes Daily helps to emphasize my makeup as it makes my eyes look fresher, bigger, and less tired. I could even skip my eye makeup and just go out with just the contact lenses . It saves me so much luggage space and time. I can now change my looks in just a few easy steps and I am ready to go!"
– Shaine Wong
"If you noticed the diameter of this series, it's smaller than the usual iris enhancer you see in other lenses, which I prefer. To be frank, I used to ADORE the huge diameter lenses that I thought made my eyes looks larger and nicer. That's not really the case because it actually made me look like an alien.
What I really love about these lenses is that the diameter size if just perfect for me without looking too artificial/fake. It's about what I like to call, "In Between Look" where it looks natural but not exactly natural."
– Lumi
Convenience: 10/10  :– Since they are dailies, they are so easy to use and convenient. Simply pop them in, in the day and throw them away when I'm done with it.
Natural looking: 9/10 :– The design of the lenses are more realistic, and looks more like a normal human eye with all that lines surrounding the iris. Happy to say that nobody noticed this pair while I was wearing them!
Comfort: 10/10:– Since these are dailies, the moisture content of each lens is higher. So yay, happy eyes!
-Mong Chin
Aesthetics: I will never say no to coloured contact lenses. So this adds an extra point to the Freshkon Alluring Eyes 1-Day contact lenses. I also like that the colours available are natural and don't look too exaggerating.
Comfort wise: Having worn it for more than 10 hours and not experiencing any discomfort was a huge bonus point. I think it is great for people with sensitive eyes. The best part is you can just remove them and throw away once you reach home.
-Urban Doll
.
FreshKon will make a better fit, so delicate and moist that you wouldn't have to squeeze those solution drops into your handbags. I couldn't help but to fall in love with how these dailies will change your daily cosmetic routine!
-Debichloe