Introduction
Sports and physical activity are great ways to stay active and healthy, but they can also come with risks, such as eye injury. Maintaining your long-term eye health while playing sports requires you to protect your eyes. The significance of sports eye safety will be analyzed, and the advantages of contact lenses for athletes will be covered.

The Importance of Sports Eye Safety
Sports-related eye injuries are more frequent than one may imagine. While playing sports, UV rays, collisions, flying objects, and fast-moving balls can all endanger your eyes. Here are some reasons why sports eye safety is so important:
Sports-related eye injuries can range from small scrapes to serious trauma that could result in vision loss. The danger of such injuries can be greatly decreased with the use of proper eye protection.
Performance Improvement: In athletics, clear vision is essential. You can see clearly, respond swiftly, and perform at your best if you take care of your eyes.
Long-term Eye Health: Eye injuries sustained during sports may have an ongoing impact on your eyesight. Precautions can help you keep your vision for a long time.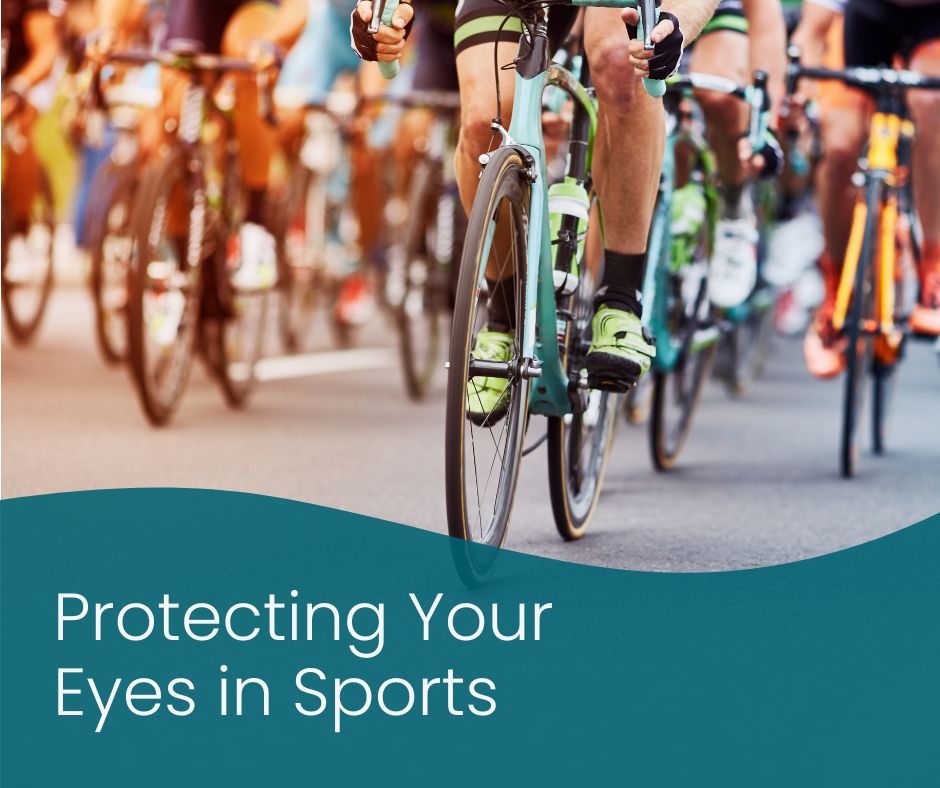 Wearing Contact Lenses for Sports
For athletes worried about eye safety and vision clarity, contact lenses have various benefits:
Unhindered Vision: Contact lenses stay in place, allowing for a clean, unhindered field of vision, in contrast to glasses, which can fog up or fall out during vigorous physical activity. This is particularly significant in sports where quick reflexes are essential, like basketball or soccer.
Reduced Injury Risk: When glasses break, there is a chance that injuries to the eyes will result. Since contact lenses are worn on the eye, this risk is eliminated. In the event of a collision, they also lessen the chance of harm from frames or nosepieces.
Protection from UV Rays: Some contact lenses have UV protection built right in to protect your eyes from dangerous ultraviolet rays. This is crucial while engaging in outdoor activities such as sports because continuous UV exposure might harm your eyes.
Better Peripheral view: In comparison to glasses, contact lenses offer a larger field of view. In sports like tennis or baseball, where it's crucial to track quickly moving things at your peripheral vision, this can be extremely helpful.
No Rain or Fog Interference: When engaging in outside activities, the weather can impair your vision. Your vision may get impaired if your glasses fog up or have raindrops on them. These elements continue to have no effect on contact lenses.
Choosing the Right Contact Lenses
It's important to take into account the following things while choosing contact lenses for sports:
Type of Sport: Various sports may place different demands on your eyesight and eye protection. To choose the best contacts for your preferred sport, talk with an eye care specialist about your unique demands.
Proper Prescription: Consult an optometrist if you need corrective lenses to make sure your contact lenses are properly prescribed for your eyesight.
Fit and Comfort: In athletics, comfort is crucial. Make sure your contacts are comfortable, fit securely, and stay in place as you exercise.
UV Protection: To protect your eyes from damaging sunlight if you engage in outdoor sports, think about wearing contact lenses with UV protection.
Conclusion
Sports eye safety is essential to the overall health of any player. Better performance is ensured by eye protection, which also protects your long-term vision. With their excellent eyesight and protection, contact lenses can significantly improve your sports experience. To ensure safety and clear vision on the field or court and to select the best contact lenses for your unique sporting demands, remember to speak with an eye care professional.
With ContactLens.SG, a reliable and affordable contact lens retailer in Singapore, you can purchase contact lenses at the most affordable prices. Our dedication to accurate information, quality brands, and expert support ensures a worry-free experience. Feel confident in navigating the world of contact lenses, knowing that ContactLens.SG is your partner in achieving a comfortable and secure contact lens journey.