OMG! My Contact Lens Is Stuck In My Eye!
A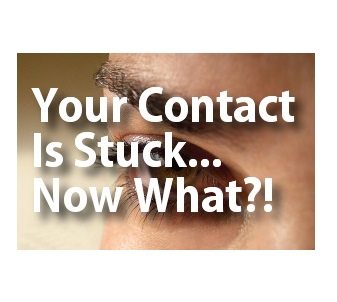 nyone who wears contact lenses has had this irrational fear – What if my lenses get caught at the back of my eyes?
The good news is – It is physically impossible for a contact lens to get stuck behind your eye. *YAY!*
However, there is always the possibility that you rub your eyes too hard and the contact lens folds into half and gets stuck under your eyelid. Or, torn contacts may leave a small piece of lens stuck in your eye. Whatever the case, step number one is to NOT PANIC!
How to Remove a Contact Lens Stuck In Your Eye
First things first – Hands should be washed and dried thoroughly before handling your lenses.
Contact Lens Rewetting Drops – Add a few drops of your preferred rewetting drops into the eye. Close your eyes, open, blink, and repeat. Do this for as many times as needed. The contact lens will usually correct itself, or drop out by itself.
Massage the Eye – If the above step does not work, apply a generous amount of rewetting drops and gently massage the upper and lower portion of your eyelids until the lens dislodges by itself. Allowing some time for the contact lens to soak in the rewetting drops may help to get the lens back into position on the cornea.
Turn the Eyelid Inside Out – Gently turn your eyelid inside out whilst looking downwards. Once the eyelid is turned inside out, tilt your head back and you should be able to see the stuck contact lens. Roll your eyes to encourage the lens to move back into a manageable position.
If the above techniques do not work, see a certified eye doctor immediately!
Tips:
Never sleep with your contact lenses on – Falling asleep without removing your contact lenses may result in a dried out lens that will get stuck onto the middle area of your cornea. If this happens, apply a generous amount of rewetting drops to the eye, close your eyes for a minute and gently massage the upper eyelid until you feel the lens move.
Remember to lubricate your eyes frequently while wearing lenses to minimize the occurrence of a stuck lens. A well lubricated eye is essential to eye health!
If you develop red eyes, see a doctor immediately. You may have developed a corneal abrasion and need medical attention.
Always move your eyes in the opposite direction of where you think the lens is stuck – ie.If the lens is stuck under your lower eyelid, look upwards.