Daily Disposable Contact Lenses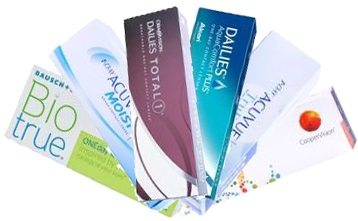 Daily disposable contact lenses are single-use lenses that are removed and thrown away at the end of each day. Did you know that the more frequently you replace your contact lenses, the healthier and more comfortable your eyes are? This is because protein, calcium, lipids and other substances found in tears will build up on the lenses. Over time, these substances will make the contact lenses less comfortable than when they were new, and can also make your eyes more prone to infection. As such, daily disposable lenses represent the ultimate in convenience and comfort for contact lens wearers.
Why Dailies?
Convenience – With daily disposable lenses, there is no need for extensive cleaning procedures – yes I can hear the cheers!
Healthy – The use of a fresh pair of lenses each day means there are no day-to-day accumulation of lens deposits.
Occasional Wear – If you like to alternate between glasses and contact lenses, dailies give you more freedom to do so.
Good for allergy sufferers – With less time for unwanted deposits to build up on the surface, daily disposables are usually more comfortable for seasonal allergy sufferers.
"Daily Wear" and "Daily Disposable" lenses – Yes, they are different!
A daily wear lens is one that must be removed before sleeping, because it is not FDA approved for extended or overnight wear. Such lenses might be replaced daily, weekly, monthly or quarterly, depending upon the brand.
Daily disposable lenses on the other hand are not meant for overnight wear and should be discarded immediately after one use.
Contactlens.sg offers a myriad of choices for your Daily Disposable needs. Click here for a complete list of available daily lenses for all your needs!